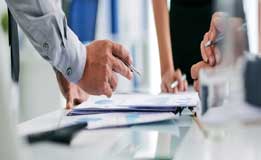 Post contract services
First National (FNRCO) undertakes the task of taking care of all forms of continuous support for management and human resources, in order to ensure compliance with all procedures related to labor laws, and to make the facility an attractive workplace for talented candidates.
The human resource support services are to follow up all the tasks related to employees and reduce the burden in terms of managing salaries, permits, recruitment procedures, and measuring the level of employee performance periodically through annual evaluation systems.
The First National for employing Saudis takes care of all direct tasks with the employee, so that the employer devotes himself to focusing on managing the work.